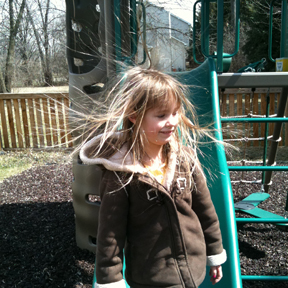 Now that most of our houses are full of humidity, we don't need to worry about crazy static hair, right?
Well if you are out at the park, you know that the slides can cause 'crazy hair' as we call it.
How do you get rid of this unmanageable hair? Just a bit of conditioner will do the trick.
I don't know about you, but I figured littleBee1 didn't need conditioner in her hair yet, she's only 4 years old.
But since we added conditioner to our bath routine, the static is virtually gone. Of course we still get a little crazy hair going down the slide, but that makes the slide even more fun!
~Sue