We celebrated the 3littleBees 2nd birthday this past weekend. They are just starting to understand the present thing and it was so much fun watching them hug some of the items that they really liked. They got so many nice things, and it was kind of humorous to see all the nicely wrapped presents and bags, x3 packed on the table.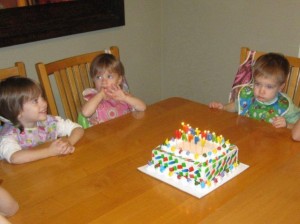 We went with one cake this year, but I'm sure as they get older we will need to do something different, so each can blow out their own candles.
I've had many ask if I'm ready for the terrible 2′s, and I'm not sure I agree with that label. When my daughter turned 2, it was a magical time. She learned so many new things in such a short time, it was truly amazing. Yes, you probably need to be in the best shape of your life, because keeping up with a 2 year old is very physical, not to mention 3 of them running every which way, but I'm up for the physical, it's the mental challenges of a 3+ year old that scares me.
I think a 2 year old needs to be entertained non-stop (that's the physical part), but they now seem to have a little bit of an attention span, maybe only 5-10 minutes, but that is something. The other nice thing about having multiples, if they entertain each other – Instant playmates!
So no, I'm not ready for the terrible 2′s x 3, I'm ready for a house full of crazy and non-stop amazement!
Best of Luck,
Sue