I'm on my second iPhone and I love it. Not only do I have my e-mail, calendar and access to the Internet with me all day, I have found so many apps that really make my life easier. I currently have 6 pages of apps, but most of them are games for littleBee1, my 4 year old. She doesn't play them as much today as in the past, but those games saved me from a lot of headaches in the grocery store and even while driving.
When I was pregnant with my triplets, I wondered about an app that would help me organize doctor visits, medications, vaccinations, feeding schedules and anything else I may need to keep track of for multiple children. Many apps I looked at only recorded info for one child, until I found Total Baby, by ANDESigned, LLC.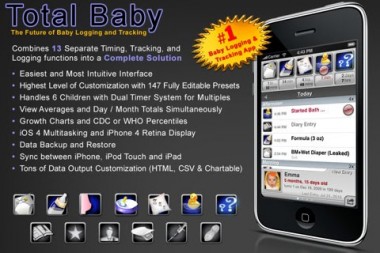 It costs $4.99, but is worth every penny. It contains 13 separate timing, tracking, and logging functions, for diapers, nursing, bottles, solids, sleeping, bath, medication, etc…
My favorite logging features are the milestones, doctor visits, growth chart, and vaccines. You can record the details of your doctor visit, while in the office with the doctor. He tells me the babies weight/length and I add them to the growth log for that baby. I also use this app as my baby book. One of the babies sits for the first time, and since my phone is in my pocket, I take it out, and record that milestone right away. I don't know about you, but before this app, I would constantly say… "I need to add that to the baby book". Now I have all the milestones recorded and with the easy Data Export, I can e-mail or sync with Wi-Fi, once a month, open my baby books and record all the details. You can also export a .csv (Excel compatible) file. So although I may still say, "I need to add that to the baby book", I at least have all the details recorded and only have to transfer the info.
Another function that they have made very easy is the vaccine log. You swipe to the correct child, click on Doctor, select vaccines and you have all the common vaccines your child may get. No need to guess at spelling, or terminology, it's all there, preloaded.
Visit their website for all the features, screen captures, video reviews, etc…
http://www.andesigned.net/totalbaby.htm
Do you have an iPhone app that you can't live without? I'd love to hear about it.
~Sue