Yes… It's all about a schedule.
Gosh there are so many things that change after having kids, way too many to even think about, but the main one on everyone's mind is S L E E P !  (hint: if it's not on your mind then you are probably so sleep deprived that you don't even know how tired you really are!)
When my first daughter was born,  the pediatrician asked me a few simple questions.
1. Do you want to continue to have a good relationship with your spouse?
2. Is having a good night sleep important to you?
"Uhhh… yeah, of course" was my answer. To that he said to follow this schedule and not only will you have time to get things done around the house, but the baby will sleep through the night in about a month and a half. Seriously… a month and a half? Yes, Seriously! Now, my first warning… if these two questions are not important to you, STOP READING THIS, IT'S NOT FOR YOU.
Of course there are some BIG factors in this actually working.
1. Your baby needs to be healthy and at your Dr. approved weight to start a feeding and night time sleeping schedule. (For example, my first daughter was born at 7lbs. 3oz and was sleeping through the night within a month and a half. The triplets were born premature, so it wasn't safe to start a schedule for a couple months, but all of them were sleeping through the night at 4 months.)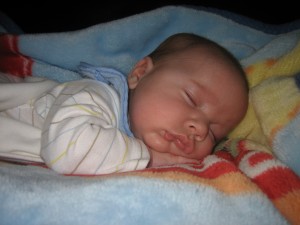 Happy Sleeper!
2. You need to be OK with letting your baby cry for 15 minutes. Listening to your baby cry can be pure torture, but if you are the type of person that needs to pick your baby up every time you hear a peep, this will never work for you. If you are to the point that you are willing to try anything, trust me 15 minutes of crying isn't that bad, and it only lasts for a  week or two at the most.
So here it goes…. and keep in mind that I'm only the messenger here, but feel free to curse my name in the middle of the night, because I know that I gave all kinds of nick-names to the pediatrician at first, but the scheduled worked for us.
Oh, and one more important thing… If you think letting your baby cry for 5 seconds is wrong, and/or would consider it to be abandonment. PLEASE STOP READING – IT's JUST NOT FOR YOU.
Let's start with the basic daytime feeding/nap schedule…
6:30 am feeding
nap after feeding (in bed), usually only 45min – to 1 hours
10:00 am feeding
1:30 pm feeding
nap after feeding (in bed), usually couple hours
5:00 pm feeding
8:30 pm feeding
Once approved by your pediatrician, your goal is to get them on this schedule, and of course the schedule isn't set in stone, so it will shift or can be shifted to fit your schedule better, but ultimately you need to get them eating every 3 1/2 hours. And yes, I woke my babies up to feed them.
NOTE: If you are having a hard time getting them to the next feeding, make sure you are burping your baby. Sometimes they will have an air bubble and think they are full and stop eating, then you lay them down and an hour or so later that air bubble comes out.. burp… and now they are not full anymore. I would have to burp my daughter so long that my arms would ache. Also, make sure if you are breastfeeding that you are drinking plenty of water!
Once you are on that schedule, your baby will be waking up 2-3 times a night to eat, and soon thereafter only 2 times a night to eat. Usually somewhere around 12:30-1:30 and again 3:30-4:30, but what time they wake up in the middle of the night or even how often doesn't really matter, it's more of a way that I can explain the schedule, so if your baby is waking up at completely different times than I've listed, no worries, you can still do it.
OK, so now as I stated above, you've got the OK from the Pediatrician, you are on the schedule, and it's time to get him/her/them to sleep through the night. Starting with the first time they wake up… let them cry for 15 minutes. Yes, the first few nights are very difficult, but you can do it and in no way is it harmful or dangerous for your baby to cry. If they are still crying after15 minutes, go into their room, only turn on the lights if you must, or in my case, I had my husband put a dimmer on the light switch, so I'd have the light as low as possible, I didn't talk, and barely opened my eyes more than a squint, basically not giving the baby happy mommy eyes.  No, you're not being mean, it's part of  letting them know that it's bed time, not play time. Now offer them some distilled/nursery water (no more than 2oz) for 5-10 minutes. My daughter never drank out of a bottle, so she outright refused the bottle. 2 out of 3 of the triplets drank the water, but either way, it just another way to let them know it's not time to eat yet. So now you are approximately 30 minutes past the time that they woke up, and you can go ahead and feed/change them and put them back in bed.
Continue to do this for the first feeding and soon you will notice that they are waking up later and later each night.
So how long will this take? Maybe 1 week, maybe 2 weeks, but in my case, my daughter took 5 days and the triplets took 1 1/2 weeks, and only because they all got ear infections.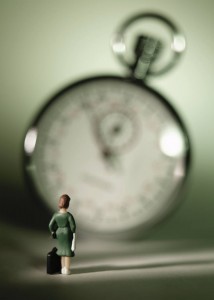 tick, tock, it's time to sleep!
So now you may think that there is no way this can work, but it does. I have 4 children, and it worked for them, my sister-in-law has 4 children and it worked for all of them, and most recently I gave this schedule to another triplet mom, and when I saw her a few weeks later, she gave me the biggest hug, because it worked for her too.
So as long as you can follow the schedule, deal with some crying for a few days, you can do it too.
I know that everyone does things differently, so if you are trying the schedule and it's just not working, or perhaps you encountering something I haven't mentioned let me know, I may have had the same issue, but forgot to mention it.
Whew! That's all for now – Happy Sleeping!
~Sue
Oh and for all of you competitive mommy bloggers, parentwin moms, know-it-alls, negative nelly or nancy's, naysayers, etc… You don't have to agree, but you should understand that we all do things differently, and a hard lesson in life that you will learn, or should learn, is that you don't have ALL the answers, and you aren't always right, and just because you think a certain way, doesn't mean that your way is the best. Don't Yuck, Someone Elses Yum! If it works for someone else, be happy for them, and just smile and walk away! And as for my blog… you can just stop reading, and move forward with your own life. This just isn't for you!